SUPER STREET GAS 4×4 get ready for 2020
USA-EAST Sanctioned Class for 540 cubic inch machines
Super Street GAS 4×4 Trucks have been a popular class with USA-EAST Sled Pulling for many years and will return in 2020.    The 2020 season will begin in on July 9 at the Big Butler Fair in Prospect, Pennsylvania.  The class will make its first-ever appearance at the Somerset County Fair in Meyersdale, PA on August 27 this year.  The class always has a great mix of the popular Big Three Manufactures battle of Ford Vs. Chevy Vs. Dodge.  The finals for the class will be on Saturday, September 19 when the class returns to Sharon Speedway near Hartford, Ohio.
Mike Lockwood from Hadley, Pennsylvania pushed his high-powered Chevrolet to the point championship in 2019.  Lockwood's "Back N Black" emerged at the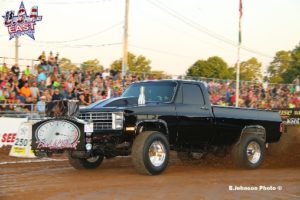 top of the point race after a very grueling season marred at the end by a rain-out of the final pull of the season at Crawford County.
###
Full Pull Productions, Inc. was created in 1987 as a production company for the sport of Tractor and Truck Pulling.  In 1991 the Big Rigs Pulling Series was added to this mix in order to bring modified semi-truck pulling under this same umbrella.  And in 2005 our in-house sanctioning body named USA-EAST Sled Pulling was created.