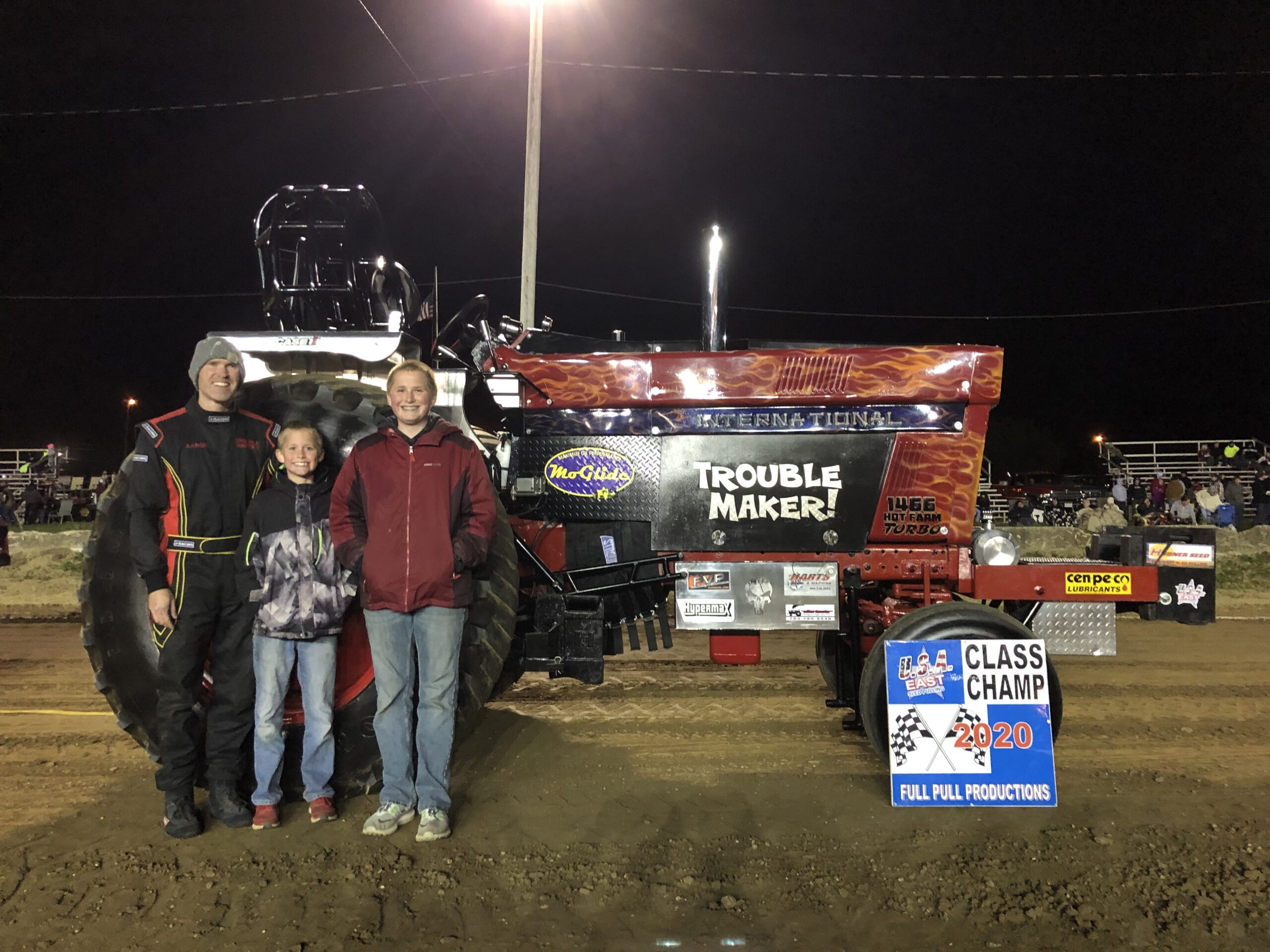 This class has become one of the most popular tractor divisions with USA-EAST in just a couple of years. Tractors running in the 'Hot Farm' division are now running so hot that they run very much like their Super Farm cousins. The 2020 season proved to be a difficult season with the COVID issues.
'Hot Farm' tractors welcome tractors that are still used on the farm, but very few from this category wish to test out the strong fields of tractors at USA-EAST pulls. These hot farm machines are strictly purpose-built tractors that don't even show a minor sign of manure or other farm remnants. And the owners treat them more like a family member than an agricultural implement.
The Champion in 2020 was Aaron Smith from Ashland, Ohio with his his  International named "Trouble Maker!" The tractor put on quite a win streak en route to its very first championship for the Smith team.
'Hot Farm' Tractors were sponsored by Hubner Seed again in 2020. Hubner Seed and their regional representative Mike Yoder from Sugarcreek, Ohio provide a vital link between the agricultural community at large and the sport of tractor and truck pulling.
The 'Hot Farm' Tractor class has stamped itself as one of the up-and-coming divisions of USA-EAST Pulling. Look for more from this class in the future.
2020 HUBNER SEEDS HOT FARM TRACTOR POINTS RACE 2020
| DRIVER | TRACTOR | NAME | Bunker Hill | Somerset | Burton Fall | |
| --- | --- | --- | --- | --- | --- | --- |
| | | | 8.15.20 | 8.22.20 | 9.19.20 | TOTAL |
| Aaron Smith - 1292 | 1975 IH 1466 | Trouble Maker! | 50 | 50 | 50 | 150 |
| Gary Reinsel - 1145 | IH | Wholley Terror | 46 | 48 | 44 | 138 |
| Gregg LeMasters-1303 | 1974 IH | Hell's Fire | 44 | 46 | 42 | 132 |
| Mark Sindlinger - 1207 |  1968 Ford 8000 | Babe | 48 | 0 | 48 | 96 |
| Dan Peterson - 1217 | 1975 Ford  | Papa Pete | 42 | 0 | 46 | 88 |
| Alex Custead- 1269 | 1968 Ford 8000 |   | 0 | 0 | 0 | 0 |
| Andrew Mirage - 1151 | 1974 Case  |   | 0 | 0 | 0 | 0 |
| Jay Caltagarone -1180 | 1985 Ford 8210 | Just Fuelin Around | 0 | 0 | 0 | 0 |