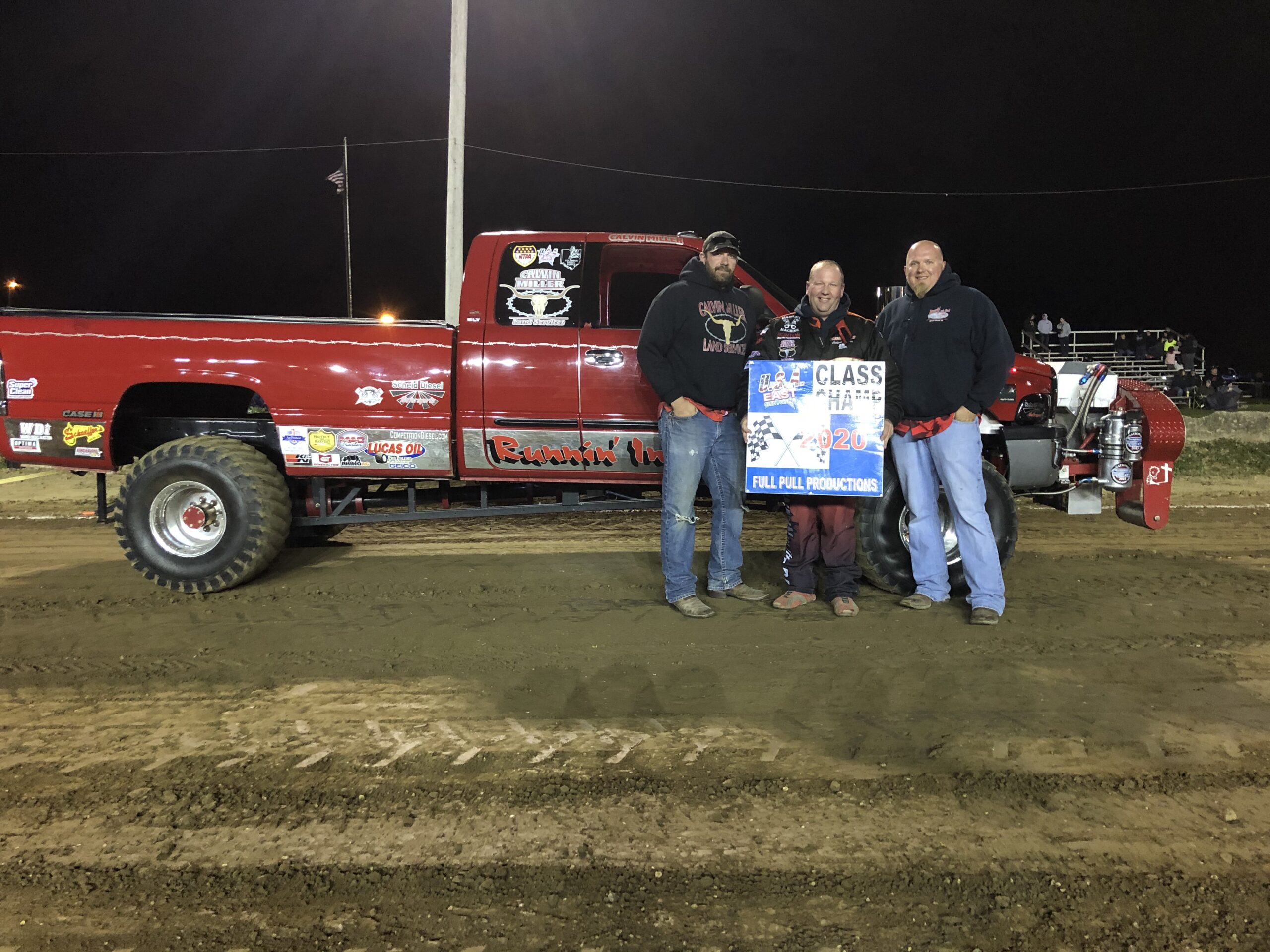 The USA-EAST Sanctioned "Run What Ya Brung" Modified  Truck class is a very competitive class of open class trucks. The rules make the class significantly more open in its complexion. Beginning in 2013 the class was opened to gas and alcohol trucks with superchargers ('blowers') that added some very strong trucks to the mix. And the rules allowed the use of Nitrous Oxide (NOS) in certain configurations. These changes were designed to allow the gas trucks and the diesel trucks to compete in the same class. And in 2017 two-wheel drive trucks were admitted to the class.
Calvin Miller, from Guys Mills, Pennsylvania took the USA-EAST championship in 2020 with 2002 Doge Ram  powered by a  Schied built Cummins diesel motor.
The class sponsor in 2020 was Warren Diesel Injection of Guys Mills, PA allowing for a very handsome point fund for this division. Cen.Pe.Co. Lubricants provided end-of-season bonus bucks to the 'Run What Ya Brung' division in 2020.
2020 "Run What Ya Brung"  Modifed Trucks Points Race
| DRIVER | TRUCK | MAKE | | | | |   |
| --- | --- | --- | --- | --- | --- | --- | --- |
| | | | Bunker Hill | Bunker Hill | Somerset | Burton |   |
| | | | 8.14.20 | 8.15.20 | Rain Out | 9.19.20 | TOTAL |
| Calvin Miller – 1106 | 2002 Dodge | Runnin' In the Red | 46 | 48 | 0 | 48 | 142 |
| Kelly Giltinan -1172 | 1955 Ford | Bull Headed | 50 | 46 | 0 | 44 | 140 |
| Rine/Kendzierski – 1264 | 1933 Willys | Blown Income | 40 | 40 | 0 | 50 | 130 |
| Jesse Warren – 1262 | 2005 Ford | SharkBait | 48 | 44 | 0 | 0 | 92 |
| Cliff Carnes – 1110 | 2001 Dodge | Carnage | 44 | 0 | 0 | 46 | 90 |
| Jon Waskob – 1255 | Dodge | Rollin Coal | 42 | 42 | 0 | 0 | 84 |
| Mike Lepley – 1144 | 1995 Dodge | Hostile | 0 | 50 | 0 | 0 | 50 |
| Lester Bates – 1253 | 2012 Ford | Completely Nuts | 0 | 0 | 0 | 0 | 0 |
| Doug Martin –  1235 | 1978 Chevy | HuffmansAuto.com | 0 | 0 | 0 | 0 | 0 |
| Justin Garwood – 1190 | 01 Dodge | Goat on a Rope | 0 | 0 | 0 | 0 | 0 |
| Jerry Berghoff –  1154 | 1972 Ford | Attitude Adjuster Reloaded | 0 | 0 | 0 | 0 | 0 |
| Brad Berghoff –  1143 | 2010 Ford | Attitude Adjuster II | 0 | 0 | 0 | 0 | 0 |