HOT ROD V-8 TRACTORS prep for 2020 season
New events in Pennsylvania await the class
USA-EAST welcomed the Hot Rod V-8 Tractors a few years ago and the class has taken off and become one of the top divisions of pulling.  With eight different sponsors in 2019 and nearly $5000 in end-of-season point money the division has attracted nearly thirty different mem
ber tractors for 2020. 
⦁ NORMANDY SEA and STEAKHOUSE of Minerva, Ohio
⦁ GUESS FOOD SERVICE (PONDEROSA of Carrollton)
⦁ HEUBNER CHEVROLET – Carrollton, Ohio
⦁ CEN.PE.CO. LUBRICANTS, Cleveland, Ohio
⦁ BEE MAC TRUCKING from Imperial, Pennsylvania
⦁ GUESS MOTORS of Carroll County, Ohio
⦁ LEPPO RENTS from Canton, Ohio
⦁ RAZOR RENTS from Carrolton, Ohio
This super level of participation has generated serious promoter interest in the class for the upcoming season with three new stops in Pennsylvania geared up to host the Hot Rod V-8s with non-points action.  The tractors will pull at the Jefferson County Fair in Brookville, Pennsylvania on July 21 and then on to the famed Buck Motor Sports Park near Lancaster, Pa on July 25 and eventually to the huge Clearfield County Fair in Clearfield on August 6.  A total of fifteen hooks await the Hot Rod V-8s in 2020.
'Mad Jack" with owner/driver Louis Roy from Imperial, Pennsylvania took the championship crown in 2019 becoming the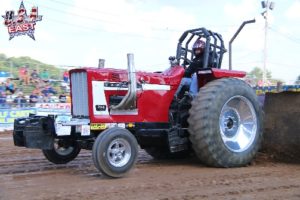 first-ever class champion outside of the state of Ohio.  The tractor is an International 706 with a very stout Chevrolet engine under the hood.
###
Full Pull Productions, Inc. was created in 1987 as a production company for the sport of Tractor and Truck Pulling.  In 1991 the Big Rigs Pulling Series was added to this mix in order to bring modified semi-truck pulling under this same umbrella.  And in 2005 our in-house sanctioning body named USA-EAST Sled Pulling was created.