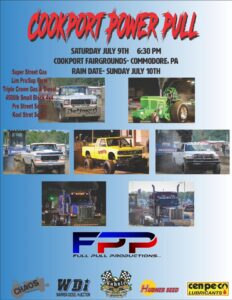 Full Pull Productions is returning to Cookport PA for the annual Cookport Power Pulls. One day only July 9 at 6:30 PM. 7 action packed classes this year.
New this year is the Pro Street Semis and the Super Street modified Gas 4×4 trucks.
Returning to action is the:
Limited Pro/Super Farm Tractors
Triple Crown Street Gas Trucks
Triple Crown Street Diesel Trucks
Small Block Mini Modified 4×4 trucks
Street stock Semi Trucks.
A night you won't want to miss.
Tickets only available at the event
Adults $13
Kids $8
Pits $25