4500lb MODIFIED TRUCKS In Third USA-EAST Season
Three different champions in three years for the class
USA-EAST welcomed the small block 4500lb Modified 4×4 trucks in 2017 and after three years and three different champions the division has proven to be a stellar addition to the USA-EAST truck pulling program.
The class will open their 2020 season before the huge grandstand at the Keystone State Nationals at the Jefferson County Fairgrounds in Brookville, Pennylvania on Father's Day week-end and will end up at the Great Stoneboro Fair in Stoneboro, Pennsylvania on Labor Day this year..
'All Shook Up" with owner/driver Brian Shilling from Distant,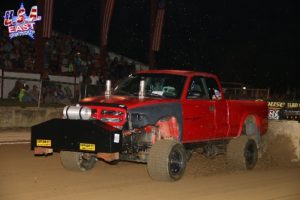 Pennsylvania took the championship crown in 2019 becoming the third different top point runner in the class.  The Dodge Dakota Sport with Mopar power proved the best in the small block division.
###
Full Pull Productions, Inc. was created in 1987 as a production company for the sport of Tractor and Truck Pulling.  In 1991 the Big Rigs Pulling Series was added to this mix in order to bring modified semi truck pulling under this same umbrella.  And in 2005 our in-house sanctioning body named USA-EAST Sled Pulling was created.