3.0 DIESEL 4×4 TRUCKS GET READY FOR 2020
"The 'Smooth Bore' class has really grown in the past few years"
USA-EAST adopted the national and regional rules for Pro Stock Diesel 4×4 Trucks for the first time in 2019 and the decision proved to be the right one as eleven different trucks competed for the crown a season ago.  Jamie Lent's CPP Diesel from Pennsylvania has committed to become the class sponsor in 2020.
There are ten hooks scheduled for the 3.0. Diesel 4×4 trucks this season.  The class will get their first ever hook at the Carrol County Fair in Ohio this year as a part of the super Friday night motor sports extravaganza and will end up at the "Night of Mayhem" in Lisbon, Ohio on the first Saturday of October.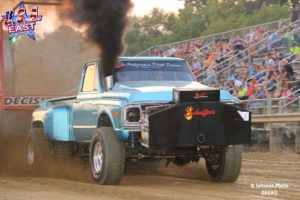 '300' And Change" with owner/driver Hunter Snyder from Carrollton, Ohio took the championship crown in 2019 with a Cummins powered and beautifully prepared Chevrolet 4×4.  Snyder had competed for years in the old 2.6 Diesel division with a Mopar truck but had never reached the top of the USA-EAST point race.
###
Full Pull Productions, Inc. was created in 1987 as a production company for the sport of Tractor and Truck Pulling.  In 1991 the Big Rigs Pulling Series was added to this mix in order to bring modified semi truck pulling under this same umbrella.  And in 2005 our in-house sanctioning body named USA-EAST Sled Pulling was created.