One of the newest classes of pulling with USA-EAST emerged in 2016 as the work stock GAS 4×4 Truck division. This class of 4×4 trucks is designed for owners of street driven trucks on gasoline that choose to push the limits within a very strict set of rules that were originally developed by the members of the class. This has produced a very competitive group of trucks that allow for a great class of pulling for the fans of USA-EAST with only two years of competition.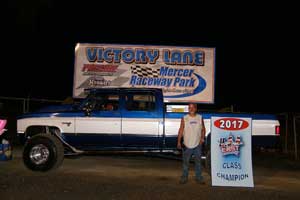 Keck Machine and Performance of Clarks Mills, Pennsylvania came on board in 2016 as the sponsor for the new class. Cory Keck and his team of machinists produce the gears and axles for many of the pullers in all classes.
The champion in 2017 with David (Freddie) Millard from the Mercer/Grove City area with a very stout Chevrolet that is named "FredNeck". This long wheelbase truck set the mark in each of the first two years of competition for the new class.
Local pullers with gasoline 4×4 trucks are welcome to enter this class at all USA-EAST pulls but must produce a valid and current registration and the truck must display the PA inspection sticker if from the state.