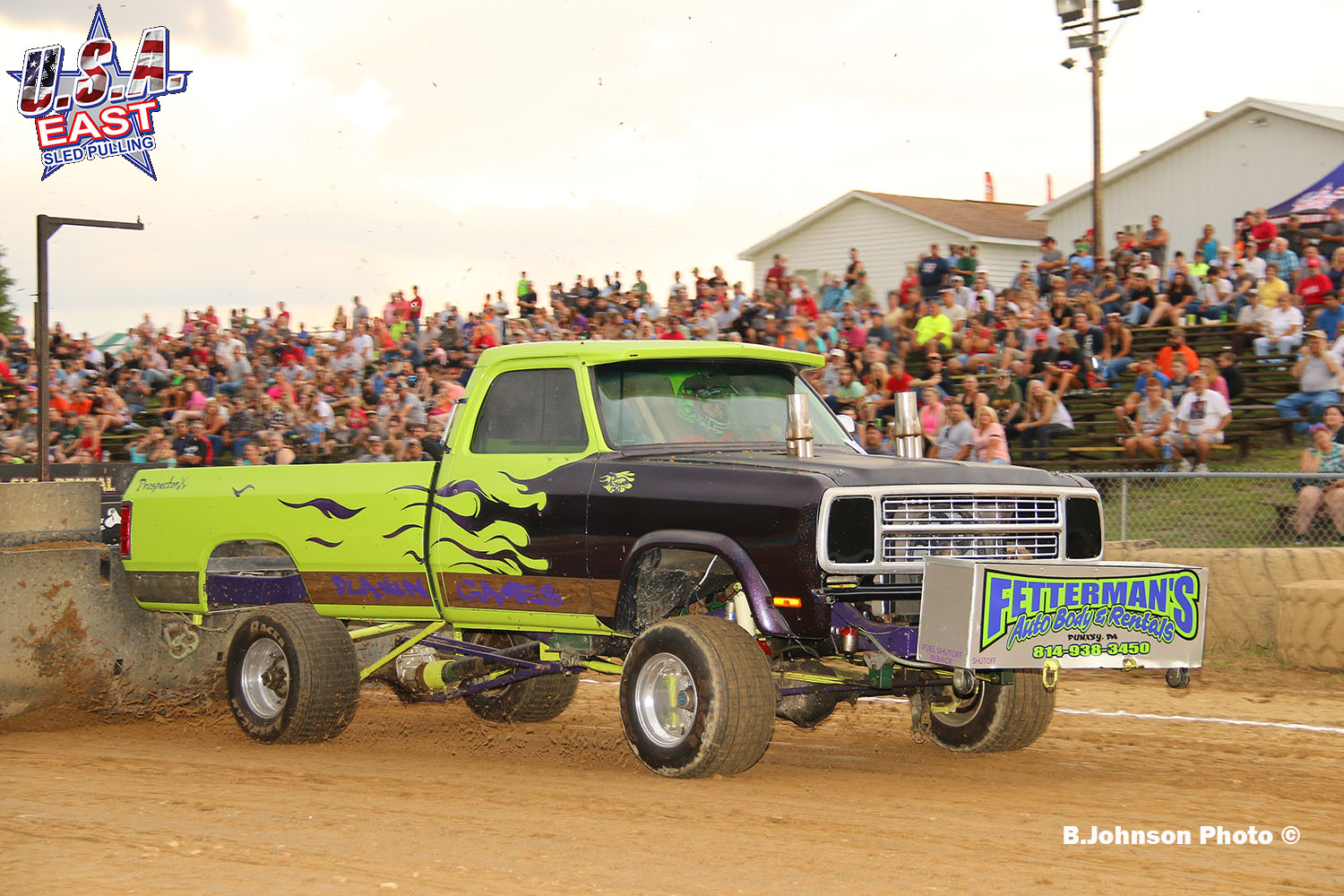 4500 Small Block Modified Trucks
The 'New Kids on the Block" with USA-EAST in 2018 were the trucks representing the 4500lb V8 4×4 division. These trucks were originally a part of the Keystone Hot Rod Garden Tractor division that was not associated with USA-EAST. The new division outgrew its position with the garden tractors and sought out a new home with a larger sanctioning body. This proved to be a great move in 2019 as the trucks competed in ten events with the USA-EAST Championship Series.

The class participates at just 4500 pounds and most of the trucks will use wide oval stock car type types with a very thin tread design. This allows for big wheel speed on the 360 cubic inch machines. And the hot revving engines scream down the track when hooked to the sled. Ten of the very interesting trucks were a part of the second year of the new series.

Brian Shilling of New Bethlehem took the USA-EAST championship in 2019 with his Dodge named "All Shook Up". Shilling won only one event this season but was second at every other hook showing that consistency is the key to a strong finish. His win at the Sykesville Fair in mid-August gave him a point lead that he never relinquished.
2019 POINTS RACE
| | | | CookPort | Brookville | |
| --- | --- | --- | --- | --- | --- |
| | | | 7.11.20 | 8.8.20 | |
| Driver | Truck  | Model | | | Total |
| Paul Stillman | Playin' Games | 98 Dodge | 48 | 50 | 98 |
| Patrick Wilson | X-Factor | 86 Ford | 50 | 46 | 96 |
| Jeff Johnston Jr. | Diggin Deep | 92 Chevy  S-10 | 46 | 48 | 94 |
| Jeff Johnston Sr. | White Lightning | 88 S-10 Blazer | 44 | 0 | 44 |