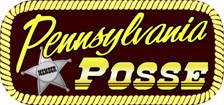 2019 PENNSYLVANIA POSSE SEMI TRUCKS
FULL PULL PRODUCTIONS, INC.
November 29, 2018
The class is open to the "World" in 2019
The class is open to 'all' in 2019.
USA-EAST members (only) will be permitted to haul their trucks to the pull site.
USA-EAST members (only) with complete approved safety equipment will not have to license their trucks.
GENERAL RULES
Vehicle must be stock appearance for that year, model and make of truck. All Trucks must be licensed  and inspected & insured.
One production-available commercial truck engine ONLY will be permitted.  Engine must have been available in over the highway road use trucks.  No multi-engine vehicles may enter any competition.  No non-commercial truck engines (car, pick-up truck, military, aircraft, etc.) are permitted.  No specialty engines such as Arias, Keith Black, Rodeck, etc. are permitted.  The stock motor block or O.E.M. block that will operate with the stock crankshaft for that model without any alterations for chassis mounting. Maximum Cubic Inch Limit is set at OEM Stock CI for Engine. (Variance of 1% allowed for wear) NOTE:  The legality of the Cummins QSK-19 has been approved since 1998 and is non-contestable.
Electronic engine control (ECM) must use factory (ECM) with Factory connections. All Engine control must come from the factory (ECM).  A Cummins engine must have a Cummins ECM – A Detroit must have a ECM – A CAT must have a CAT ECM, etc.
All competition vehicles must have a firewall between the engine compartment and the driver's compartment.  No holes except for controls.  Holes must be no larger than one-half inch larger in diameter than the control that passes through.
Driver must wear an drivers suit jacket and long pants.  Driver must wear driving shoes or leather boots.  No sneakers or tennis shoes are permitted.
All fans must have fiberglass blades.  A complete shroud must encircle the fan area (360 degrees) and be securely attached.  A heavy fiberglass shroud is highly recommended.
All vehicles must have working brakes on all rear wheels.
All exhaust systems must discharge vertically.  No rain caps are permitted.  Turbo-charged engines must have two 3/8 inch grade five bolts in some portion of the exhaust pipes.  These bolts must be installed within 1" of each other and at a 90 degree angle to each other.
A fire extinguisher (minimum 2.5 pound dry-powder type) is required and must be in working order with gauge fully charged.  Fire extinguisher must be within reach of the driver.
All vehicles must have an operable kill switch on the right side of hitch and located directly in line with the point of hook.  A minimum of a two inch solid ring is required for connection with a minimum of 1/8 inch cross sectional thickness.  The sled cable will be attached to this ring.  (Vehicles running for points or running over factory RPMS must have this)
All vehicles must have a master battery disconnect switch located on the driver's side that is marked. (Vehicles running for points or running over factory RPMS must have this)
On all diesels, the kill switch must activate the air shut-off.  Shut-off must be placed ahead of any turbo-chargers.  A cable may be used for this purpose, but must have positive-type enclosed cable for the shut off.  This cable must be 100% free of any obstructions.  The cap must have a spring-loaded closing mechanism.  System to be deemed acceptable must a least prevent any building of boost.  It is recommended that a gasket/seal arrangement be used to more effectively shut off all air flow.  Control for the driver will not be the same as for the sled.
Diesel engines with an electric fuel pump must have a break-away plug that will attach to the kill cable.  This break-away plug must break all contact to the fuel pump and cause the fuel pump to immediately stop.
Water injection is permitted. Competitor may be required to drain water and use Sanctioning body supplied water.  No ether, alcohol, nitrous or other combustible (propellant) liquid or combustible material may be injected into the turbo-charger or any part of the air intake system.
The use of a P-Pump is allowed for all tucks. Must not be larger than a P7100.
No pump may be modified with Sigma parts. No Billet fuel pumps.
No sigma pumps OR MW pumps are permitted. Normal pump diesel is the only fuel permitted in this class.
Turbos are limited to single O.E.M .Turbocharger with an O.E.M . 4.1 inch maximum inducer bore on the atmosphere turbo with O.E.M factory exhaust wheels.  The bore will be measured using a 4.2 inch slug/calipers. Map width enhancement of .280" maximum is permitted which must be in the O.E.M. location.  No type of non-O.E.M Housing permitted nor are design modifications to allow a larger wheel to be used in the turbo housing. No Clipped or cut wheels.  Exceptions: A factory 2005, 2006, 2007, 2008, 2009 & 2011 CAT twin turbo engine is permitted with the factory-installed non-altered turbos. A truck running an engine under 650 cubic inches permitted to run twin turbos.
Center line of rear axle to hook point on the semi hitch must be no greater than 7 feet
Drivers must use a seatbelt and/or shoulder harness when hooked to the sled.
Fifth Wheel Position- Kingpin/Fifth wheel plate position No further forward then the center of the front axle and no further back then center between the two axles
There must be 66" from the center of the tandems to the first obstruction forward such as the back of the truck cab, toolbox, wet line box, etc.
Tandem axle spacing must be between 60" and 52"
OF ENTRY
All trucks must be licensed for the highway and must be driven into the event site.   The driver must have current and valid state issued driver's license. All entries must be a Street Licensed Semi Truck.  The owner must furnish a current registration card for the vehicle at the time of registration and the driver must have a valid CDL license.  Truck must be capable of pulling a trailer on the highway. All trucks running for points must pass "Super Tech" before any points will be awarded. (USA-EAST members (only) will be permitted to haul their trucks directly into the pull site.  USA-EAST members (only) do not have to license their trucks as long as their truck is equipped with the complete list of safety items.
SAFETY CONSIDERATIONS
No riders are permitted in truck during pull attempt.  Driver may not leave the driver's seat while vehicle is on the pulling track.  Driver will take all direction from the flagman on the track.
WEIGHT OF TRUCK     (22,000 LB. MAXIMUM)
The truck shall appear 'road ready'.   Special trucks, such as oil field trucks that carry additional weight that is not normally found on a 'road ready' truck are not permitted in this class.  The promoter may weigh any truck at any time. Weight will be 22,000 pounds (+/- 2%) for ALL competition trucks.  Any truck weighing more than 20,401 lbs. but less than 20,800 lbs.  may be permitted to participate at the Competition Directors discretion hitch will adjusted down  minimum of 2 inches ( this is one time courtesy—if collecting points only hook points will be given) Truck may have a weight bar with removable weight on the back of the truck—maximum weight permitted is 600 Lbs. on weight bar. Weights or weight bar cannot interfere with hooking to the sled or kill switch. Weights & weight brackets cannot extend more than 51" rearward past the center of the rear drive axle.
AXLES
Only tandem drive axle semi trucks will be permitted to compete.  No front wheel drive will be permitted.  No single axle trucks.  No dump trucks.  No specialty trucks (well-drilling, wreckers, boom trucks, etc.) will be permitted to compete.
Airbags or air springs and/or all mechanical lift mechanisms on front steering axles are NOT permitted.
At no time may rear axles lose contact with the ground while the truck is hooked to the sled.
Trucks with air ride suspension must be equipped with chains or some type of limiting device on both drive axles to prevent the height of the frame from changing during the pull. Limiting device must not have any 'give' built in. Solid rear drive axle suspension permitted, however front drive must be chained or limited. Chains or limiting devices must be tight (no slack) when the hitch is measured. Four short chains or cables from the side of the frame down to the axle housings is recommended. No chains and binders going up and over the frame rails allowed. Maximum air pressure in the suspension airbags must be limited to 80psi by installing an air pressure regulator in the leveling valve supply line. An air pressure gauge mounted at the regulator in a visible position must be present to check air pressure. This is done to prevent breakage of the suspension limiting device or failure of the airbags due to an over pressure condition. Breakage or failure of a chain or limiting device while hooked to the sled will be cause for disqualification.