WORK STOCK (WS) GAS TRUCK RULES
2019  WORK STOCK LICENSED GASOLINE 4X4 TRUCKS
Tentative :11.19.2018
The rules promulgated in these rules are intended as guidelines for the sport of Street Licensed Gasoline 4×4 truck pulling.  These rules have been adopted by Full Pull Productions, Inc. for the 2019 season. Nothing herein should be construed as a guarantee against injury or death to participants, crewmen, family members, bystanders or spectators.  Each participant at a Full Pull Productions' pulling event must assure that their equipment and replacement equipment throughout the season meets the requirements for this class.
This is a street legal 4×4 truck class available to currently licensed owners of gasoline-fueled trucks that are legal for highway use. This is Gasoline only fuel class is designed for pickup trucks with a wide variety of performance upgrades that may be driven or hauled to the pull. Any truck that dominates this class may be required to compete without the opportunity to win trophies and/or cash payments.
If your truck is street legal and is built to the rules set forth herein, you can enter this class.  Registration papers are required to prove that the truck is licensed for street use.   A license plate with a current sticker tag is required to be affixed to the truck.  Registration papers and license plate and sticker tag must match.  Where applicable, a current inspection sticker is required.    Trucks may be hauled to the pull. Any Trucks Running for Points must have a kill switch as per USA-East Rules as well as any truck that competes more than two times in a season.
**USA-Tech officials reserve the right to determine legality of truck by various methods.
BODY:  Truck/Van must be stock in appearance.  Full Size SUV Bodies are allowed — Suburban, Broncos permitted.  No Ambulance, Delivery type truck body's, etc. permitted.  Floor in bed must be solid. The wheelbase may not be changed from original manufacturer.  No Flatbed type truck beds (A 1 time expectation may be made for local puller).  All body panels including in the inner and outer skins of the trucks bed well as the floor of truck bed must be O.E.M or heavier built. Fiberglass hoods and/or fiberglass hood scoops are permitted. Other design modifications to reduce weight are not permitted. Glass- All windows must be in place with OEM Glass.
WEIGHT:  Class is 6500 pounds.  No weight brackets or hanging weights allowed on front of vehicles. Weights must be in the bed of the truck only and securely fastened or contained safely therein. Weights are permitted within but not below frame rails and anywhere in the confines of the body with the exception of the cab. No weight inside cab. Weight must not be visible.
FRONT BUMPERS: Front bumpers must be factory stock.  No weighted front devices are permitted – this includes but is not limited to: homemade bumpers, brush guards and winches.  Lower brackets (only) for snowplow frames are permitted so long as no modifications that would add weight are determined.   An unaltered decorative brush guard may be permitted at the option of the head official.   A truck is permitted to compete without a front bumper.
REAR BUMPER/HITCH: A rear bumper or receiver-style hitch is the only acceptable type of hitch.  No other types of hitches are permitted.  Hitch point may not be more than 26″ from ground.  Hook point must be past the bed of the truck if there is no bumper, or past the end of the bumper. Hitch Point (Where the hook drops) must be within 10 Degrees of level to the ground.  If you back the truck up to a wall, the hitch would hit the wall before anything else.   (Exception for sled stops).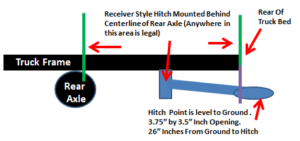 Hitch attachment point must be behind the centerline of the Rear Axle.   Shortening of the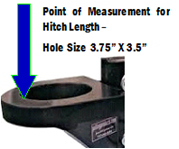 bed in order to shorten the hook point is not permitted.   Each truck driver must supply a twisted clevis.  The hole for hitching must be a minimum of 3.75 X 3.5 inches across.
ENGINE:  Must be an O.E.M factory production engine or remanufactured OEM designed engine that was available in a mass produced truck/van 1 ton or less application.  The maximum cubic inch will be 505 Cu.In. Provisions must be made to put on a "seal" on the engine after the truck has been cube checked.  Engine must remain in stock location or no farther forward than 12" from the rear of engine block to centerline of front axle. All trucks running for points must be cubed checked by the end of the 2nd hook. Competitors must be able to have their engine pumped at ANYTIME during the pull season. A 1% variance will be permitted. No aluminum engine blocks are permitted unless O.E.M.   Any cast iron or conventional type iron cylinder heads permitted. Must maintain factory intake and exhaust port spacing and height with-in ½".  Factory O.E.M. aluminium heads permitted.  No pro-stock type cylinder heads (i.e. "Big Chief", "Big Duke",  "C-head", "Hemi", "Blue Thunder pro stock style heads", etc.), no billet heads.  No sheet metal or tunnel ram intakes permitted. All exhaust must run through a muffler system and exit the body following one the two ways listed:
 1).Exhaust routed under the vehicle must exit under the cab and but before the rear axle.
 2). Factory type Configuration
      No open headers will be allowed.  No superchargers or turbochargers permitted. Swaps between manufacturers are not permitted.  Any single 4-barrel mass produced type carburetor allowed. Air cleaners are required. O.E.M Factory injected engines are permitted.
FUEL: Gasoline is the only fuel permitted.  Gasoline tank must be in the factory location or securely mounted in a racing type fuel cell in the bed.  O.E.M.  Absolutely no alcohol, nitrous oxide or other oxygen extenders.  Turbo-blue and Cam-2 are permitted.
BATTERY: Battery must remain inside the engine compartment and must be securely fastened.  (Batteries may be moved to the bed area and secured in an approved battery box)
SUSPENSION: No solid suspensions are permitted.  Suspension must have a minimum of two inches of downward movement at all times.  Driver must be able to demonstrate FREE downward movement with no use of mechanical advantage.  (No ratchet straps, binders or other mechanical means). No blocks are allowed between axle housing and truck frame that would restrict the necessary two inches of movement.  If a truck has airbags, the system must be disabled.  Traction bars are permitted if they are only bolt on and completely removable.  Traction bars must be pivotal. 
TIRES: Normal street legal tires (as provided by and intended by manufacturer) are required. No dual wheels, studded tires, tire chains or any tire not specifically intended for street use are permitted.  All tires must carry a D.O.T. Number on the side wall, DOT number must be easily read from the outside of the tire.  No cut, altered or sharpened tires.
TRANSMISSION: Transmission & transfer case must be O.E.M. and available in one ton (or smaller) trucks.  Posi-traction carriers are permitted.  No welded carriers or spools permitted in front differential. Truck must be able to be driven on and off the track without unlocking the hubs
OTHER: Driver's window must be rolled completely rolled up while competing. Other windows may be lowered. Drivers must wear a seatbelt or shoulder harness when hooked to the sled.  Passengers are not permitted at any time either in the pits or on the track.
USA-East Memberships are not required in order to enter and participate.  This class will be a Points Class in 2019. If you want to collect points you will need to be a USA-East Member for the 2019 Season.  There MAY BE end of season Points Fund contingent on sponsorships.  The Winner and Runner up will receive Jackets and Plaques at the USA-East End of Season Award Banquet.
Entry fee will be $25.00 per truck at all events.  Truck may be entered/registered no more than two times with two different drivers, however only one driver will collect any trophy or prize money.  This must be designated at the time of entry.
Class rules may be changed for safety issues and/or betterment of the sport.