2017 FULL PULL CLASS CHAMPION
Too Hot Too Farm: Ryan Austin "The Legend"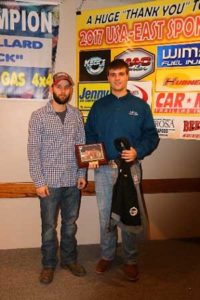 A brand new class called "Too Hot To Farm" was started in 2017 as a USA-EAST Point division. The class is designed for farm appearing tractors that have been 'turned up' to a maximum of 3000 rpm. The class does require safety equipment under the new rules. Six different tractors competed in the new division in the first year with pulls slated at five USA-EAST venues.
Tractors in are welcome to 'bump up' to the very popular Hot Farm class and then return to run with 2H2F.
Individual owners can choose their combination. They can prepare their tractor within the rules to their own specification. And they can now compete in major league pulling events with USA-EAST.
Ryan Austin from Emlenton, Pennsylvania was the champion in this first year of operation of the 2H2F division with USA-EAST. His IH tractor is called "The Legend".
An increase in the number of tractors and the number of hooks for the 2H2F class is anticipated in 2018.