2018 SMALL BLOCK V8 4×4 Trucks CLASS CHAMPION:
Stoney Crissman - "Never Enough"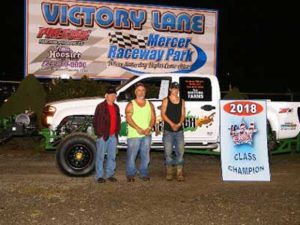 The 'New Kids on the Block" with USA-EAST in 2018 were the trucks representing the SMALL BLOCK V8 4×4 division. These trucks were originally a part of the Keystone Hot Rod Garden Tractor division that was not associated with USA-EAST. The new division outgrew its position with the garden tractors and sought out a new home with a larger sanctioning body. This proved to be a great move in 2018 as the trucks competed in eight events with the USA-EAST Championship Series.
The class participates at just 4500 pounds and most of the trucks will use wide oval stock car type types with a very thin tread design. This allows for big wheel speed on the 360 cubic inch machines. And the hot revving engines scream down the track when hooked to the sled. Ten of the trucks were a part of the first year of the new series.
Stoney Crissman from Distant, Pennsylvania claimed the first-ever USA-EAST point championship in 2018 with the truck called "Never Enough". This very unique Chevrolet Colorado was primed for the season when Crissman took the very first event in June and never looked back as he claimed the championship.
2019 POINTS RACE
| MOD 4500 Truck  | | | FINAL | | | | | | | | |
| --- | --- | --- | --- | --- | --- | --- | --- | --- | --- | --- | --- |
| | | | STANDINGS | Big Butler Fair | Cookport | Bunker Hill | Jefferson Conuty | Sykesville | Bunker Hill | Crawford | Stoneboro |
| | | | | 7.4.19 | 7.7.19 | 7.12.19 | 7.15.19 | 8.8.19 | 8.10.19 | 8.17.19 | 9.2.19 |
| Driver | Truck  | Model | Total | | | | | | | | |
| Brain Shilling | All Shook Up | 00 Dodge | 356 | 46 | 48 | 48 | 48 | 50 | 48 | 20 | 48 |
| Stoney Crissman | Never Enough | 05 Colorado | 350 | 48 | 50 | 38 | 46 | 48 | 50 | 20 | 50 |
| Paul Stillman | Playin' Games | 98 Dodge | 348 | 50 | 46 | 50 | 50 | 46 | 40 | 20 | 46 |
| Jeff Johnston Jr. | Diggin Deep | 92 Chevy  S-10 | 314 | 42 | 44 | 46 | 42 | 44 | 38 | 20 | 38 |
| Jeff Johnston Sr. | White Lightning | 88 S-10 Blazer | 296 | 36 | 40 | 42 | 40 | 38 | 36 | 20 | 44 |
| Nick Polka | Un-Twisted | 88 Chevy S-10 | 268 | 40 | 0 | 40 | 44 | 42 | 42 | 20 | 40 |
| Rich Stewart | Nemesis | 84 Toyota | 252 | 44 | 0 | 44 | 38 | 40 | 44 | 0 | 42 |
| Jarrett Grimes | Truffle Shuffle | 84 Chevy | 162 | 38 | 42 | 36 | 0 | 0 | 46 | 0 | 0 |
| Nathan Nye Jr. | Little Bastard | 94 Dodge | 142 | 34 | 38 | 34 | 0 | 0 | 0 | 0 | 36 |