Over the past couple of years, this class of trucks has become extremely popular with more competitors and more fans involved in the class. The division was sponsored in 2017 by Warren Diesel Injection from Guys Mills, Pennsylvania in Crawford County. A special end-of-season bonus was provided by Cen.Pe.Co. Lubricants and Fuel Additives.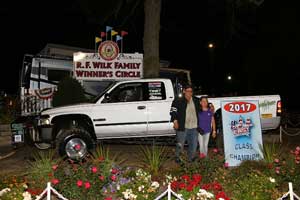 This is NOT a street class!!  Owners use all kinds of techniques to make their trucks perform well beyond the level of stock trucks.  With the advent of "chip technology" a mild-mannered street machine can become an awesome street monster in a matter of hours.
The champion in 2017 was Joe Hemm from Mayport, Pennsylvania marking his first-ever USA-EAST crown. Hemm's Dodge is called "Thunder Rolls" and sports a turbocharged Cummins for power. Joe would readily acknowledge the help he gets from his wife, Dorreen', who never missed an event
And the runner-up is Jesse Warren from Guys Mills, PA with his 6.0 power stroke Ford named "Week-end Warrior".
The Open 2.6 Diesel class will be the top-rated diesel 4×4 truck class running with USA-EAST in 2018.