2018 Open 2.5 Diesel 4×4 CLASS CHAMPION:
Bill Daufen – "Punisher"
Diesel trucks have taken the Penn-Ohio-New York area by storm. On the streets and highways, there are tons of beautiful diesel trucks of all shapes and sizes and colors. And many of the owners of these street licensed 4×4 trucks want to participate at our USA-EAST pulling events. So now there is a place for those trucks within the rulebook. The class is called Open 2.5 Diesel 4×4.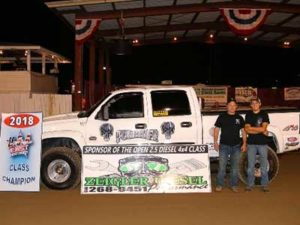 Trucks in this class must be licensed for the street. These trucks must use DOT tires and a normal street legal transmission and driveline. Owners may use a single tuner on the truck, but the truck must still have all of its stock appearing parts – headlights, tail lights, seats and interior and the same engine that came with the truck. However (and this is where the 2.5 comes in) the turbocharger must be the same one that came with the truck from the factory OR a replacement charger with no more than a 2.5-inch diameter at the intake side.
The winner of the class point championship for 2018 is Bill Daufen from Ellwood City, Pennsylvania. Bill is a police officer in Beaver County and has named his truck "Punisher". It is a beautifully prepared Chevrolet with a specially built Duramax engine under the hood. Bill won six times in 2018 en route to his first ever championship with USA-EAST.
The class sponsor in 2018 was Zeigler Diesel Performance of Canton, Ohio owned by former puller, Justin Zeigler. Special 'bonus money' was supplied by Cen.Pe.Co. Lubricants.
2019 2.5 Diesel Truck Points Race
| | | | | Diesel Dayz | Bunker Hill | Geauga | Big Butler Fair | Bunker Hill | Summit | Lisbon | Warren Co. | Smithfield | Sharon |
| --- | --- | --- | --- | --- | --- | --- | --- | --- | --- | --- | --- | --- | --- |
| | | | | 6.1.19 | 6.7.19 | 6.22.19 | 7.3.19 | 7.13.19 | 7.26.19 | 8.3.19 | 8.9.19 | 8.16.17 | 9.14.19 |
| Driver | Truck | Make | | | | | | | | | | | |
| | | | TOTAL | | | | | | | | | | |
| Branden DeFrank - 1126 | DeFrank & Son Auto Body | 2003 GMC | 470 | 20 | 50 | 50 | 50 | 50 | 50 | 50 | 50 | 50 | 50 |
| Chris Baer - 1241 | The Rowdy Ram | 2006 Ram | 452 | 20 | 48 | 48 | 48 | 48 | 48 | 48 | 48 | 48 | 48 |
| John Harrison- 1236 | BullsEye | 1998 Dodge | 416 | 20 | 46 | 36 | 46 | 46 | 44 | 40 | 46 | 46 | 46 |
| Aaron Kopta - 1108 | Rusty Hooker | 2004 Ford | 414 | 20 | 44 | 44 | 42 | 42 | 46 | 46 | 44 | 42 | 44 |
| Jermy Davis  - 1105 | Straight Off The Farm | 2006 Dodge | 390 | 20 | 34 | 46 | 38 | 44 | 40 | 44 | 38 | 44 | 42 |
| Matt Harrison - 1140 | General Nightmare | 2006 Ford | 382 | 20 | 36 | 44 | 40 | 40 | 38 | 42 | 42 | 40 | 40 |
| Terry Roberts - 1169 | Blackout | 2007 Chevy | 342 | 20 | 42 | 40 | 44 | 38 | 42 | 38 | 40 | 38 | 0 |
| Cody Dean -1250 | Always Something | 2003 Ford | 96 | 20 | 38 | 38 | 0 | 0 | 0 | 0 | 0 | 0 | 0 |
| Brain Duran - 1222 | Low Standards | 1993 Dodge | 60 | 20 | 40 | 0 | 0 | 0 | 0 | 0 | 0 | 0 | 0 |
| Logan Yoder - 1160 | Blakes Diesel Care | 2002 Dodge | 20 | 20 | 0 | 0 | 0 | 0 | 0 | 0 | 0 | 0 | 0 |
| Doug Ruble -1201 | Hooker On A Budget | 2004 Ford | 20 | 20 | 0 | 0 | 0 | 0 | 0 | 0 | 0 | 0 | 0 |