Too Hot To Farm — "2H2F"
USA-EAST Sled Pulling will introduce a new tractor division for 2017. This class will be named "Too Hot To Farm" and will be designated at "2H2F" on the schedule. The new division is designed as an entry level tract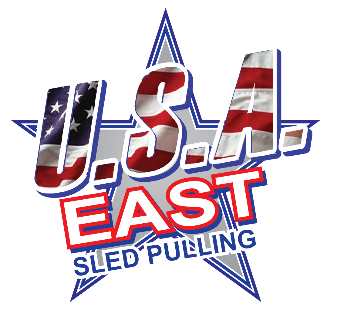 or class to allow pullers to move up to the Hot Farm class at some point.
"Our Hot Farm class has taken off in just three years", said Rick Feicht President of Full Pull Productions, the parent company of USA-EAST. "Today it is very difficult and very costly just to jump into Hot Farm and the competition in that class has become tremendous".
The 2H2F class will be modeled after the very successful classes of the same name that have grown in the mid-west and in the south. RJ and Brady Feicht met with some of the pullers from these class while at the National Farm Machinery show in Louisville, Kentucky in February and gained some valuable knowledge regarding the classes.
Upon his return to Pennsylvania, RJ met with a representative of a group of 2H2F pullers from Clarion and Butler Counties to formulate a set of rules for the new USA-EAST division. Those rules have been adopted and are in place. The class will run at 11,000 pounds with a 3000 rpm limit in its initial year of sanctioned competition. Purses will be paid at all 2H2F events this season.
This class will be truly 'open to the world'. Pullers in the new 2H2F class will not be required to join USA-EAST for 2017 competition. However a point race will be maintained and the eventual class winner will be honored at the annual USA-EAST banquet in the Fall with a trophy and a jacket.
"A number of our smaller Fair clients have been asking for a class where their local farm style pullers would have a chance to compete. Our goal is to provide this opportunity for those tractor owners", said Feicht. It is anticipated that local tractor owners will show up and compete when the new 2H2F class is in their neighborhood.
The new division is currently slated for six stops in 2017 – all in western and central western Pennsylvania. The class will open the season at the Lawrence County Power Pulls in New Castle on Friday, June 16 as a part of a six class – two track extravaganza. 2H2F will next go to the new USA-EAST pull at the Power Pulls at the Cookport Fairgrounds in northeastern Indiana County on Saturday, July 1. The Jefferson County Fair in Brookville will host the class on Wednesday, July 19 and the tractors will go to the Sykesville Fair in Sykesville on Thursday, August 10. Another new USA-EAST event – the Great Stoneboro Fair in Stoneboro will host the 2H2F on Friday, September 1. The 'Finals' for the class will be held during the huge pull at Mercer Raceway Park on Saturday, September 16.
For a complete set of rules for the 'Too Hot To Farm" division with USA-EAST please click here.  And for specific questions please contact RJ Feicht at FPPTECH@GMAIL. COM OR 724.301.1219