One of the most popular tractor classes in the eastern United States is the combined division for Limited Pro Stock and Super Farm Tractors. This group of tractors closely resembles the normal Pro Stock Tractors. The primary difference is that the Limited Pro Stock class is 'limited' to a 540 cubic inch engine and is required to use a much smaller fuel pump for competition. The Super Farm Tractors may run up to 640 cubic inches but that class is limited to a much smaller turbo-charger.
The other noticeable difference with this class when compared to their 'big brothers' in pulling is the great variety of manufacturers and thus a great diversity of 'color' in the class. Ford, New Holland, International, Case, John Deere, Massey-Ferguson and others are all seen in this class.  The division is sanctioned through USA-EAST Sled Pulling, Inc.
The Limited Pro Stock/Super Farm class is sometimes seen along with the Interstate Pullers Association but is called 'Mod Turbo' in the eastern part of Pennsylvania as well as Virginia and Maryland . The rules for the Limited Pro Stock division and those of the Interstate Pullers are quite similar allowing tractors to move back and forth between the two divisions.   This class of 'smokers' is promoted regionally by Full Pull Productions,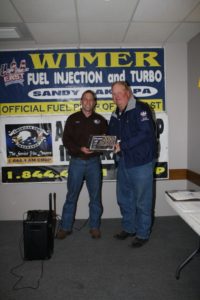 Inc.
Dan Park from Brookville, Pennsylvania won the championship in this class in 2016 with his John Deere named "Saturday Night Hooker". Dan is a grain farmer in Jefferson County (central PA) and his Super Farm Tractor became only the second SF to win the championship with USA-EAST. Dan is sponsored by Barber Trucking and by American Crop Insurance and by Camper's Paradise in Cook Forest.
The runner up was Kolt Andreas from Sugarcreek, Ohio with the Limited Pro named "High Gear" and the venerable "Shot Gun Red" and John Wilkins from Fresno, Ohio finished third in 2016.
Wimer Fuel Injection and Turbo of Sandy Lake, Pennsylvania was named "The Official Fuel Pump" of USA-EAST Pulling again for 2017 The company provided a very handsome contingency fund for the Limited Pro and Super Farm class this season.