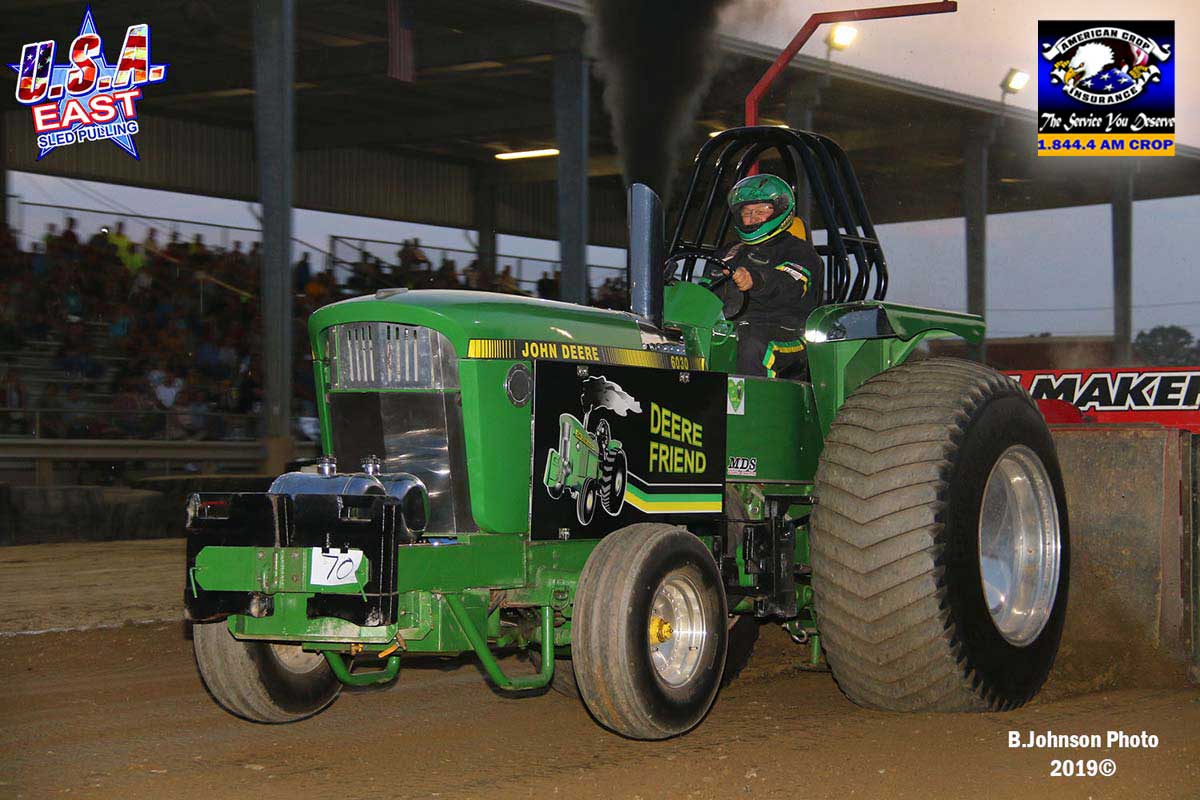 Limited Pro Stock/Super Farm CLASS
2019 Champion Tim Pugliese and "Deere Friend" Super Farm
The Limited Pro Stock/Super Farm class is sometimes seen along with the Interstate Pullers Association but is called 'Mod Turbo' in the eastern part of Pennsylvania as well as Virginia and Maryland. The rules for the Limited Pro Stock division and those of the Interstate Pullers are quite similar allowing tractors to move back and forth between the two divisions. Super Farm Tractors are allowed to compete in this class with USA-EAST. This class of 'smokers' is promoted regionally by Full Pull Productions, Inc.
The Champion in 2019 was Tim Pugliese and "Deere Friend" from Spring Church, Pennsylvania. This John Deere 6030 Super Farm Tractor was at or near the top of the point race all season long and put together some great runs at the end of the year to claim the crown. This is Tim's first USA-EAST championship. No stranger to the top spot, Tim had been the champion in a southwest PA series a couple of years ago.
The class sponsor was American Crop Insurance from Louisville, Ohio. Jim Stinson and his team helped to make a very handsome end-of-season point fund for the Limited Pro/Super Farm division.  This class also qualified for "bonus bucks" offered by Cen.Pe.Co. Lubricants as an added incentive.
2019 POINTS RACE
| | | | Bunker | Burton | Cookport | Bunker | |
| --- | --- | --- | --- | --- | --- | --- | --- |
| | | | 6.26.20 | 6.28.20 | 7.11.20 | 8.14.20 | |
| Driver | Tractor | Make | | | | | |
| | | | | | | | TOTAL |
| Gregg Ferringer | Smokin' John | JD | 50 | 46 | 50 | | 146 |
| Larry Ferringer | Still Smokin' | JD | 48 | 50 | 44 | | 142 |
| Park/Solley | Saturday Night Hooker | JD | 40 | 48 | 42 | | 130 |
| Brad McFarland | UnTamed | JD | 38 | 42 | 40 | | 120 |
| Shane McFarland | Rutt N' Buck | JD | 34 | 44 | 38 | | 116 |
| Tim Pugliese | Deere Friend | 67 JD | 30 | 30 | 46 | | 106 |
| Erik Hickle | Poverty Case | 73 Case | 30 | 38 | 34 | | 102 |
| Cortney Thompson | Juiced | JD 6030 | 32 | 34 | 36 | | 102 |
| Laine Jobe | Patience Of Jobe | Ford 540 | 46 | 0 | 48 | | 94 |
| John Lorenz | Chance | IH 1066 | 42 | 32 | 0 | | 74 |
| Nathan Graham | Blue Reaper | | 44 | 0 | 0 | | 44 |
| Mark Sidlinger | | 68 Ford | 0 | 40 | 0 | | 40 |
| Reidenbach/Wilkins | Shotgun Red | 88 IH | 36 | 0 | 0 | | 36 |
| Kayla/Nathan Graham | Billet Blue | 8970 NH | 0 | 0 | 0 | | 0 |
| Ross Martin | Runnin Red Warrior | 92 Case IH | 0 | 0 | 0 | | 0 |
| Forest Kemp | Nightmare | Ford | 0 | 0 | 0 | | 0 |
| Scott Sanor | The Red Stallion | IH | 0 | 0 | 0 | | 0 |
| Jim Swiontek | Buck Up | JD | 0 | 0 | 0 | | 0 |
| John Kachurik | Strugglin' | IH | 0 | 0 | 0 | | 0 |
| Kolt Andreas | High Gear | IH | 0 | 0 | 0 | | 0 |
| Jimmy Williams | Cattlelac Red  | IH 966 | 0 | 0 | 0 | | 0 |
| Tommy Williams | Green Max | JD 8410 | 0 | 0 | 0 | | 0 |
| Dan Schwartz | Daddy's Dream | 640 JD | 0 | 0 | 0 | | 0 |
| Steve Kalinowski | One Bad MF | MF 2805 | 0 | 0 | 0 | | 0 |
| Todd Wright | Twisted Metal | Ford 9600 | 0 | 0 | 0 | | 0 |
| Jack Hamilton | Unforgiven | 455 JD | 0 | 0 | 0 | | 0 |