2018 Hot Rod V-8 Tractor CLASS CHAMPION:
Dean Kibler – "Good Vibrations"
Now in its fifth year with USA-EAST the Hot Rod V-8 Tractor class has quickly become one of the most popular divisions both with the fans and with the various fairs that now demand that the class comes to pull at their events.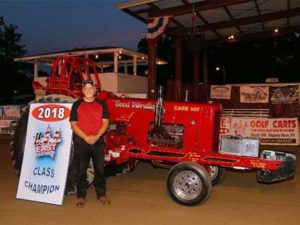 Hot Rod V-8 Tractors are built on older style tractor frames with high-powered single V-8 engines from automobiles and light trucks. The frame and sheet metal must be pre-1972 to be legal. By rule, all engines may be no larger than 521 cubic inches. So it is not uncommon to see a Massy-Harris 44 with a 472 cubic inch Cadillac motor or a Case 600 with a 478 built up Chevrolet engine. This is where the appeal to the class lies.
Individual owners can choose their combination. They can prepare their tractor within the rules to their own specification. And they can now compete in major league pulling events with USA-EAST.
Dean Kibler from Hanoverton, Ohio is the class champion in 2018. Kibler is a former champion in the division and took more wins in the season than any other tractor in the series. His Case 600 is powered by V-8 Chevrolet power and still utilizes a chain driven rear end as is required by the rules. The tractor is now named "Good Vibrations" and sports a meticulous point job that helps to showcase the Hot Rod V-8 class.
Cen.Pe.Co. Lubricants provided end-of-season bonus bucks to the Hot Rod V-8 division in 2018. The Central Petroleum Company of Cleveland, Ohio, and Wolcott, Iowa has been a consistent supporter of this class since it began. 
Other sponsors for this entertaining class are:
⦁ NORMANDY SEA and STEAKHOUSE of Minerva, Ohio
⦁ GUESS FOOD SERVICE (PONDEROSA of Carrollton)
⦁ HEUBNER CHEVROLET – Carrollton, Ohio
⦁ BEE MAC TRUCKING from Imperial, Pennsylvania
⦁ GUESS MOTORS of Carroll County, Ohio
⦁ LEPPO RENTS from Canton, Ohio
⦁ RAZOR RENTS from Carrolton, Ohio
2019 HOT ROD V8 POINTS RACE
| | | | | Bunker Hill | Geauga | Bunker Hill | Trumbull | Carrollton | Conneaut | Mile Branch | Lisbon | Bunker Hill | Smithfield | Crawford | Stoneboro | Sharon |
| --- | --- | --- | --- | --- | --- | --- | --- | --- | --- | --- | --- | --- | --- | --- | --- | --- |
| DRIVER | Type | Name | FINAL | 6.7.19 | 6.22.19 | 7.12.19 | 7.13.19 | 7.19.19 | 7.20.19 | 7.26.19 | 8.3.19 | 8.9.19 | 8.16.19 | 8.23.19 | 9.2.19 | 9.14.19 |
| | | | POINTS | | | | | | | | | | | | | FINALS |
| Louis Roy - 1138 | IH 706 | Mad Jack | 583 | 50 | 48 | 48 | 50 | 44 | 36 | 48 | 42 | 50 | 42 | 42 | 37 | 46 |
| Kevin McIntire - 1188 | Case 600 | High Dollar Hooker | 568 | 48 | 38 | 50 | 44 | 50 | 50 | 30 | 48 | 44 | 46 | 34 | 42 | 44 |
| Dean Kibler - 1214 | Case 600 | Good Vibrations | 532 | 46 | 46 | 36 | 32 | 36 | 40 | 36 | 50 | 36 | 48 | 44 | 48 | 34 |
| John Pitts - 1122 | AC D-17 | Outlaw Alice | 502 | 40 | 44 | 34 | 48 | 38 | 26 | 46 | 28 | 40 | 32 | 32 | 46 | 48 |
| Oscar Trbovich- 1102 | 56 Farmall | Freaky Farmall | 498 | 44 | 42 | 46 | 46 | 22 | 38 | 50 | 34 | 30 | 44 | 36 | 28 | 38 |
| Tom Best - 1149 | Farmall 400 | Resurrected Red | 470 | 26 | 40 | 22 | 34 | 48 | 48 | 44 | 36 | 38 | 36 | 30 | 40 | 28 |
| Leslie Pitts - 1161 | 1956 JD | Doe Chaser | 454 | 42 | 20 | 32 | 42 | 32 | 34 | 20 | 46 | 22 | 40 | 40 | 34 | 50 |
| Mike Janoski | IH - Chevy Dur. | Bowtie Binder | 440 | 36 | 36 | 38 | 40 | 46 | 18 | 42 | 24 | 24 | 38 | 48 | 24 | 26 |
| Tom Janoski - 1234 | Mini Mo (Chevy) | Old Yellow | 418 | 38 | 30 | 42 | 28 | 30 | 30 | 20 | 20 | 28 | 34 | 38 | 50 | 30 |
| Scott Peterman | MM 445 | Poor Decisions | 374 | 34 | 50 | 24 | 20 | 24 | 0 | 38 | 40 | 26 | 28 | 28 | 30 | 32 |
| Michael Palmer - 1101 | Cockshutt | Ba-Zinga | 346 | 20 | 28 | 0 | 18 | 20 | 32 | 40 | 22 | 34 | 26 | 46 | 20 | 40 |
| Dennis Moose - 1103 | 88 Oliver | Row Crop Road Runner | 320 | 20 | 20 | 20 | 26 | 40 | 42 | 20 | 20 | 20 | 24 | 20 | 26 | 22 |
| Jim Nugent - 1181 | 1972 Oliver 1850 | Wired | 320 | 24 | 34 | 28 | 24 | 20 | 28 | 22 | 20 | 20 | 0 | 26 | 32 | 42 |
| Tim Dayton- 1146 | 1957 Cockshott | Blue Thunder | 306 | 22 | 32 | 44 | 38 | 42 | 20 | 24 | 20 | 42 | 22 | 0 | 0 | 0 |
| John Roy | Mini-Moline | Never Satisifed | 291 | 20 | 20 | 0 | 0 | 0 | 0 | 0 | 30 | 48 | 50 | 50 | 37 | 36 |
| Dino Guerrieri - 1192 | JD 4020 | The Green Reaper | 274 | 20 | 22 | 0 | 22 | 0 | 46 | 26 | 44 | 20 | 30 | 22 | 22 | 0 |
| Paul Bowser - 1261 | Case 930 | The Tire Man | 272 | 20 | 20 | 20 | 20 | 28 | 24 | 28 | 32 | 20 | 0 | 20 | 20 | 20 |
| Jeremy Seible | Cockshutt | Get "R" Done | 242 | 32 | 24 | 26 | 30 | 26 | 0 | 20 | 38 | 0 | 0 | 0 | 46 | 0 |
| John Roy - 1139 | 47 Farmall M | The Roy Toy | 234 | 30 | 26 | 40 | 36 | 20 | 22 | 20 | 20 | 20 | 0 | 0 | 0 | 0 |
| Daniel Janoski | 1952 Farmall M | The "M" | 196 | 28 | 20 | 30 | 20 | 20 | 18 | 20 | 20 | 0 | 0 | 0 | 20 | 0 |
| Clay Sindlinger/Josh - 1167 | 59 Ford 5000 | Ripped Up | 190 | 0 | 0 | 0 | 0 | 0 | 44 | 32 | 26 | 20 | 0 | 24 | 20 | 24 |
| Mike Clapper | Ford Commander | The Blue Binder | 140 | 20 | 0 | 20 | 20 | 20 | 0 | 20 | 20 | 20 | 0 | 0 | 0 | 0 |
| Justin Haley | 68 JD | 8 Point Buck | 108 | 20 | 0 | 0 | 0 | 34 | 0 | 34 | 20 | 0 | 0 | 0 | 0 | 0 |
| Tim Hawk | John Deere | Darkside Deere | 70 | 18 | 0 | 20 | 0 | 0 | 0 | 0 | 0 | 32 | 0 | 0 | 0 | 0 |
| Tammy Lynn Yusko | 49 Oliver 88 | Olive Nasty | 58 | 18 | 0 | 0 | 0 | 0 | 0 | 0 | 0 | 0 | 0 | 0 | 20 | 20 |
| Roger McClure | Cockshutt 570  | Grey Ghost | 38 | 38 | 0 | 0 | 0 | 0 | 0 | 0 | 0 | 0 | 0 | 0 | 0 | 0 |
| Farrell Blknap | Farmall M | BBC | 18 | 18 | 0 | 0 | 0 | 0 | 0 | 0 | 0 | 0 | 0 | 0 | 0 | 0 |
| Barry Dripps | IH | | 0 | 0 | 0 | 0 | 0 | 0 | 0 | 0 | 0 | 0 | 0 | 0 | 0 | 0 |
| Rick Rhodes | W-6 McCormick | War-Horse | 0 | 0 | 0 | 0 | 0 | 0 | 0 | 0 | 0 | 0 | 0 | 0 | 0 | 0 |
| Rick Ridenour | Masey 44 | | 0 | 0 | 0 | 0 | 0 | 0 | 0 | 0 | 0 | 0 | 0 | 0 | 0 | 0 |
| Bruce Becker | Farmall 560 | Iron Eagle | 0 | 0 | 0 | 0 | 0 | 0 | 0 | 0 | 0 | 0 | 0 | 0 | 0 | 0 |
| Scott Zimmerman | 1948 Farmall | Tammy's Trouble | 0 | 0 | 0 | 0 | 0 | 0 | 0 | 0 | 0 | 0 | 0 | 0 | 0 | 0 |
| Joshua Zellers | Ford 1946 | Mighty Mini | 0 | 0 | 0 | 0 | 0 | 0 | 0 | 0 | 0 | 0 | 0 | 0 | 0 | 0 |