Now in its fourth year with USA-EAST the Hot Rod V-8 Tractor class has quickly become one of the most popular divisions both with the fans and with the various fairs that now demand that the class comes to pull at their events.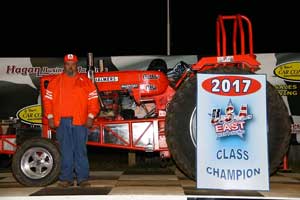 Hot Rod V-8 Tractors are built on older style tractor frames with high-powered single V-8 engines from automobiles and light trucks. The frame and sheet metal must be pre-1972 to be legal. By rule, all engines may be no larger than 521 cubic inches. So it is not uncommon to see a Massy-Harris 44 with a 472 cubic inch Cadillac motor or a Case 600 with a 478 built up Chevrolet engine. This is where the appeal to the class lies.
Individual owners can choose their combination. They can prepare their tractor within the rules to their own specification. And they can now compete in major league pulling events with USA-EAST.
John Pitts from Minerva, Ohio claimed his first-ever championship with the Hot Rod V-8 division in 2017. His "Outlaw Alice" had been the runner-up a year ago. Pitts had to wait till the final event of the season to get the championship in a very tight USA-East Point race.
Cen.Pe.Co. Lubricants provided end-of-season bonus bucks to the Hot Rod V-8 division in 2017. The Central Petroleum Company of Cleveland, Ohio, and Wolcott, Iowa has been a consistent supporter of this class since it began.
Other sponsors for this entertaining class are:
NORMANDY SEA and STEAKHOUSE of Minerva, Ohio
GUESS FOOD SERVICE (PONDEROSA of Carrollton)
HEUBNER CHEVROLET – Carrollton, Ohio
BEE MAC TRUCKING from Imperial, Pennsylvania
GUESS MOTORS of Carroll County, Ohio