CANFIELD FAIRGROUNDS CHALLENGE ANNOUNCED FOR JUNE 20
Non-Spectator Three Division Truck and Tractor Pulling to be broadcast on Pay-Per-View!
In an effort to provide and promote a starting point for our pulling sport during the current COVID– 19 Pandemic environment, USA-EAST has partnered with Warren Diesel Injection of Guys Mills, Pennsylvania and MAC Trailer of Alliance, Ohio and the Central Petroleum Company – CEN.PE.CO. of Wolcott, Iowa to undertake a first-of-its-kind event at the Canfield Fairgrounds in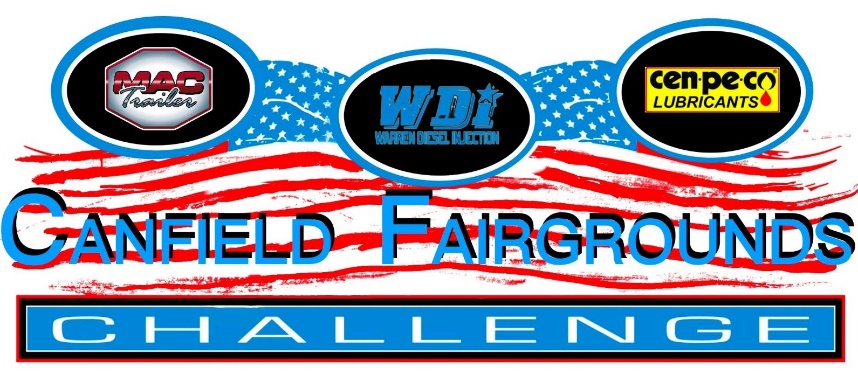 Canfield, Ohio on Saturday, June 20, when it presents a non-spectator, tractor and truck pull beginning at 2:00 pm. The event will be available as a live broadcast on 'Pay Per View'.
Conducted by Full Pull Productions of Jamestown, Pennsylvania and sanctioned by USA-EAST, the non-spectator event for three divisions of pulling: "Run What Ya Brung" Trucks – 10,000lb Pro Stock Tractors – Limited Pro and Super Farm Tractors. NO other classes or exhibitions will be honored for this closed event. No memberships are required. The pull will be fully insured by Allied Specialty Insurance through Jones-Birdsong Agency of Minnesota.
This pull carries a rain date of Sunday, June 21 at 2:00pm.
There will be NO general admission for this special, competitor-only, non-spectator, pulling event on the grounds of the Canfield Fair in Canfield, Ohio (near Youngstown). The fairgrounds has been the scene of a number of high-powered USA-EAST and NTPA pulls in the past and offers a great pulling surface on the infield of the famed fairgrounds. Love's 'Decision Maker" is both the primary sled and back-up and Laser measuring will be used.
The event will require pre-entry for all pulling teams at a cost of $225 each that will include a total of five (5) pit admissions including four for team members plus one for the driver. No additional persons will be permitted into the pit area in order to keep within state regulations brought on by COVID-19. Children may attend with the team but must count as one of the five persons.
Actual registration fees for USA-EAST ($25.00) are included with the event fees. No added charges and no money will be collected on the day of the pull.
In case of cancellation – weather or other unforeseen circumstances all pre-registration fees and all PPV fees will be returned LESS credit card fees, if any. Should the rain-date of Sunday be used there would be no refunds.
A purse will be paid with all checks mailed after the pull. The goal is to pay at least ten places with $1000 to win for the national level ProStock tractors and $700 to win for the two regional divisions.
A pay-per-view will be offered through WatchPullingTV.com at a cost of $20.95. More information will be made available as we get closer to the event. WatchPullingTV is very experienced with this type of endeavor as the company has produced the PPV for the Louisville National Farm Machinery Show for the past three seasons.
Teams are encouraged to pre-enter early as the field will be limited by social distancing requirements and could be closed at any time. RWYB trucks and Limited Pro/Super Farm Tractors with a valid 2020 USA-EAST membership (as of May 1, 2020) will receive exclusivity if the team registers during the first 48 hours of registration.
Registration will begin at NOON on Thursday, May 28. To reserve a spot in the field, teams must send an e-mail to pullingusaeast@gmail.com after NOON on that date May 28 – not before. Please provide the class of competition and vehicle name plus name and phone number for a return phone call from the USA-EAST office to confirm your spot in the pull. Advance payment of $225 will be accepted via Credit Card to officially secure your spot. Your actual pulling position within your class will be drawn during this call. The time of your e-mail will be used to prioritize the actual field in each class. Once the field of vehicles is filled all further registrations will be closed. A maximum of sixty pulling teams can be accommodated for this event. All registration will close on June 12 when the line-ups will be released.
The grandstand will be closed and locked and no persons will be permitted on that side of the track unless or until Ohio's Governor changes the regulations in that regard.
Pit gates will open at 10 am on June 20 and all pullers must be inside the pit gate before 12:30pm. The pull and the PPV will get underway at 2 pm. We do not expect any food or drink sales in the pit area due to current regs.
Each team will be parked in a designated spot measuring 15' wide and 75' long. This is YOUR parking spot and teams should stay in this designated area as much as possible prior to going to the scales and onto the track.
Teams will be required to adhere to all social distancing guidelines and current pandemic rules and regulations for the state of Ohio and may include the wearing of facemasks and gloves depending on the rules in effect at the time of the pull. All attendees are asked to supply their own face coverings and gloves.
Keep up to date on all the latest pulling news, results and event status by visiting Full Pull Productions at www.fullpullproductions.com.