2018 3.0 Smoothbore Diesel Class Champion:
John Humpe IV – "Causin' Trouble"
Over the past couple of years, this class of trucks has become extremely popular with more competitors and more fans involved in the class. The class has evolved and has changed over the years. Originally a 2.6 Diesel Class, the members voted to move to a 3.6 Smooth Bore division for 2018. It was also called a "Pro Stock Diesel". But changes are coming to the class for the next season…
…For 2019 the class will adopt the national set of rules for the 3.0 Smooth Bore Diesel 4×4 division. Stock appearing 4×4 truck), 8000 pound, diesel fuel only, 460 cid limit with a maximum 3.0" turbocharger, "p" pump, DOT tires (35" maximum), and 26" drawbar. This will permit pullers from both Ohio and New York and even Canada to come to USA-EAST events and compete on a level playing field.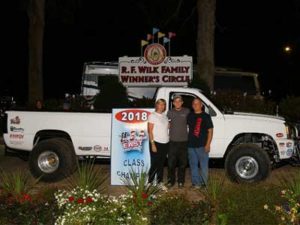 This is far from a street class of diesel trucks.  Owners use all kinds of techniques to make their trucks perform well beyond the level of stock trucks.  With the advent of "chip technology" a mild-mannered street machine can become an awesome street monster in a matter of hours.
The Pro Stock (3.6) division was sponsored in 2018 by Warren Diesel Injection from Guys Mills, Pennsylvania in Crawford County. A special end-of-season bonus was provided by Cen.Pe.Co. Lubricants and Fuel Additives.
The champion in 2018 was John Humpe IV from Bloomingdale, Ohio. This awesome Chevrolet with a very stout Duramax Diesel under the hood was the product of Danville Performance of the state of Indiana. The truck is called "Causin' Trouble" from the Nothing But Trouble Pulling Team. "Causin' Trouble" not only took the point race crown in the 3.6 smooth bore division but also jumped up the powerful Run What Ya Brung class on occasion coming away with a big win in that ultra-powerful class at midseason. The team is made up of John Humpe III (Dad), Brenda Humpe (Mom) and the driver John Humpe IV.
 3.0 Diesel Truck Smooth Bore Points Race 
| | | | | | | | | | | | |
| --- | --- | --- | --- | --- | --- | --- | --- | --- | --- | --- | --- |
| | | | EXPO PULL | DIESEL DAYZ | BUNKER HILL | FAYETTE | Lisbon | Bunker Hill | Crawford | Burton | |
| | | | 5.25.19 | 6.1.19 | 6.7.19 | 7.29.19 | 8.2.19 | 8.9.19 | 8.23.19 | 9.1.19 | |
| Driver | Truck | Make | | | | | | | | | TOTAL |
| John Humpe -1223 | Causing Trouble | 2006 Chevy | 40 | 20 | 50 | 46 | 44 | 46 | 48 | 46 | 340 |
| Charlie Reckert -1272 | Aint Cheating Yet | Dodge | 30 | 20 | 44 | 50 | 48 | 50 | 50 | 44 | 336 |
| Hunter Snyder - 1173 | 300 & Change | 1969 Chevy | 42 | 20 | 40 | 48 | 50 | 44 | 42 | 48 | 334 |
| Shearer/ Hindman - 1260 | Joint Custody | 1996 Dodge | 34 | 20 | 46 | 40 | 46 | 48 | 46 | 50 | 330 |
| Greg Young - 1174 | Patriot | 2001 Dodge | 48 | 20 | 42 | 44 | 42 | 42 | 44 | 40 | 322 |
| Stackhouse/Flavell - 1107 | Under New Management | 1994 Ddge | 32 | 20 | 32 | 42 | 38 | 40 | 38 | 36 | 278 |
| Zach McClellan - 1178 | Midnight Magic | 2001 Dodge | 36 | 20 | 30 | 38 | 34 | 0 | 40 | 38 | 236 |
| Dominic Gambino -1251 | Brothers Diesel | 1997 Dodge | 44 | 20 | 34 | 36 | 40 | 0 | 0 | 42 | 216 |
| Josh Hayes -1247 | The Cure | 2005 Chevy | 46 | 20 | 48 | 0 | 0 | 0 | 0 | 0 | 114 |
| Dane/Ron Kick -1244 | 48 Special | 1948 Ford | 50 | 20 | 38 | 0 | 0 | 0 | 0 | 0 | 108 |
| John Savage - 1111 | Savage Beast | 2005 Chevy | 0 | 0 | 30 | 0 | 36 | 38 | 0 | 0 | 104 |
| John Atzrott -1252 | Mongrel | 2001 Dodge | 38 | 20 | 36 | 0 | 0 | 0 | 0 | 0 | 94 |